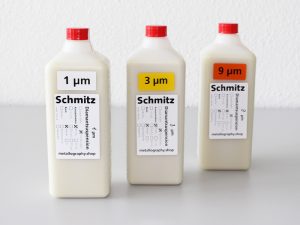 Our diamond slurries are characterized by a closely toleranced grain size and a high quality standard. We pay special attention to a uniform, agglomerate-free grain distribution. Fine diamond grains can no longer be classified by sieving due to the electrostatic charge (more on this here). These powders are physically dried and are thus always slightly agglomerated in the as-delivered state. The art is to completely eliminate these agglomerates.
---
Product range
We produce slurries in the following variants:
Water-based (W)
The standard for manual dosing.
Automatic spraying machine variant (SWS)
Water-based slurry especially for automatic spray machines, metering systems or closed-circuit conveying. Hoses and nozzles do not stick together.
Oil-based (Ö)
e.g. for water-sensitive samples or in tool and mold making. Also available as a strongly pasty variant.
Alcohol base (A)
For Zn-layers or Mg-alloys and for all those who prefer short service lives of their polishing cloths.
pH 7 Alumina slurries
For ceramics where the binder phase should also be retained.
Light or thick pasty modifications
e.g. for the drawing die industry or toolmaking as a low-cost alternative to diamond paste.
---
Viscosity
The viscosity of the slurry is adjusted so that the diamonds remain in suspension for several weeks. Due to the difference in density and a high diamond concentration, they sink to the bottom of the bottle if left to stand for a longer period of time. Due to the special manufacturing process of the slurry, the diamonds are treated in such a way that they no longer agglomerate (clump together) when they settle. Simply shake the bottle so that the diamonds are back in suspension and the slurry is ready for use. Slurries of our spray machine variant remain stable for months.
---
Indication of concentration
Have you ever wondered why people like to talk about a "standard concentration" or "extra high concentration" for diamond polishing agents? Quite simply, they would rather not tell you the exact concentration (carats/liter). With us, however, you can choose between different concentrations from 25 cts/L to 500 cts/L [carats per liter; 1 cts = 0.2 g].
The standard diamond concentration of our slurries for metallographic sample preparation is 50 cts/L. In the optical industry even concentrations up to 500 cts/L are common.
---
Application
Our diamond slurries can be used for manual and machine polishing. In industrial technology, the grit size ranges for lapping and polishing with diamond polishing agents are between 0.25 to 50 µm. Other grit sizes such as our nanodiamond slurry with 50 nm grit size are available on request.
---
Ease of use

For quick differentiation of particle size, we have introduced the same colored labels for the bottles as for our pastes.
---
Special applications?
Do you have a special polishing task such as 3D-polishing by means of a robot and associated polishing agent feed system? The slurries come from our own production, which allows further product variants as well as modifications. We can adapt the polishing agents both in viscosity and concentration specifically to your needs – just contact us.
PRIVATE LABELS // For resellers we offer private label solutions.