In a metallographic laboratory, the removal of the specimen by cutting is usually the first step of specimen preparation. Although preparation is also possible on an ambulant basis, the component must be cut in order to create a metallographic microsection and to ensure an optimum grinding and polishing process in the laboratory. There are a number of things to consider here, for example the choice of the appropriate cut-off wheel. You can find more information about this here.
Wet cut-off wheels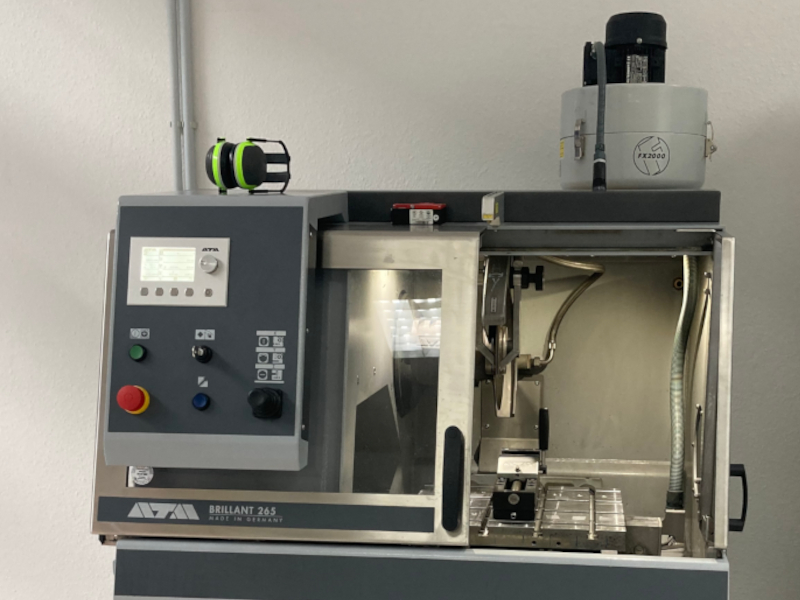 Our resin-bonded corundum cut-off wheels (Al2O3) are ideally suited for metallographic specimen removal. The cut-off wheels are characterized by a very long service life. The separated surfaces are smooth, low in deformation and free of tarnish. We stock cut-off wheels in diameters of 250, 300, 350 and 400 mm in the Universal type up to 40 HRC and Special type up to 65 HRC. The bond has been adapted to the corresponding hardness ranges of the material to be cut. Hard materials require a softer bond of the abrasive grains. Used corundum grains can detach more easily to clear the way for new (sharp) grains. For softer materials, cut-off wheels are used in which the abrasive grains are enclosed in a hard bond.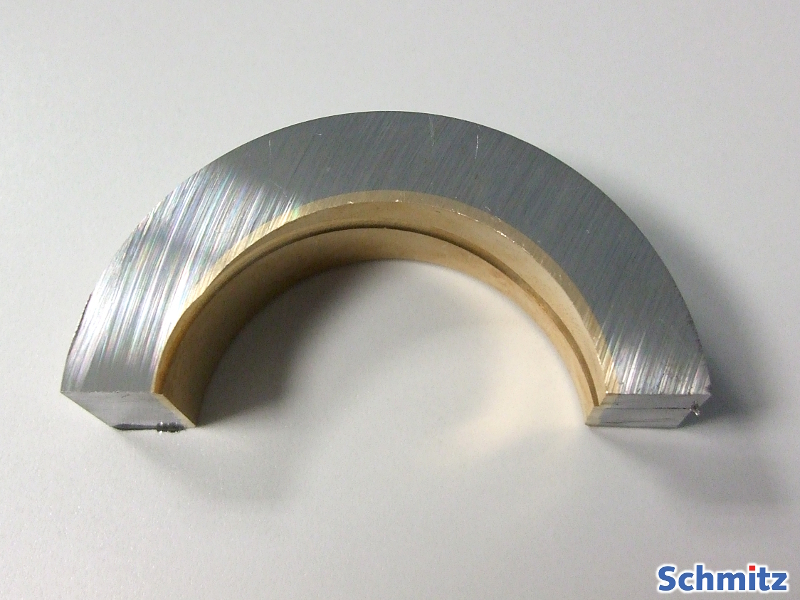 The picture shows the surface quality of a separation cut on an induction-hardened and copper-coated liner. Even zones of different hardness (induction hardening) as well as a much softer copper layer can be cut without problems with our wet cut-off wheel. In this case, the Universal cut-off wheel up to 40 HRC was selected.
---
Common causes of failure when wet cutting specimens
Jammed or burst cutting-off wheel
Jamming of the cut-off wheel is usually related to internal component stresses (residual stresses). The outer rim zone has been cut through, releasing the stresses. The jamming of the cut-off wheel then occurs due to the relative movement of the sawn component. This can even lead to breakage of the cut-off wheel, usually shortly before the component is completely cut through.
Other causes may be insufficient output/speed of the wet cut-off machine. Check whether the component is still firmly fixed in the clamping or has possibly become loose.
TIP // Always clamp with one vice only, never on both sides.
Tarnished specimen
The specimen surface has become too hot and shows annealing colors. This is also noticeable during cutting due to greater resistance.
TIP // You should select a cut-off wheel with a softer bond, as the bond is reset more quickly here and fresh abrasive particles come into contact again (cut-off wheel Special up to 65 HRC). The feed rate should be reduced and the cooling liquid flow checked (full cooling). Cut-off wheel oscillation is basically advantageous for a good cut quality.
Rapid wear of the cut-off wheel
If the cut-off wheel is subject to too rapid wear, it is due to the wrong choice of the cut-off wheel. The bond is too soft.
TIP // Select a cut-off wheel with a harder bond (cut-off wheel Universal up to 40 HRC).
---
Diamond cut-off wheels & CBN cut-off wheels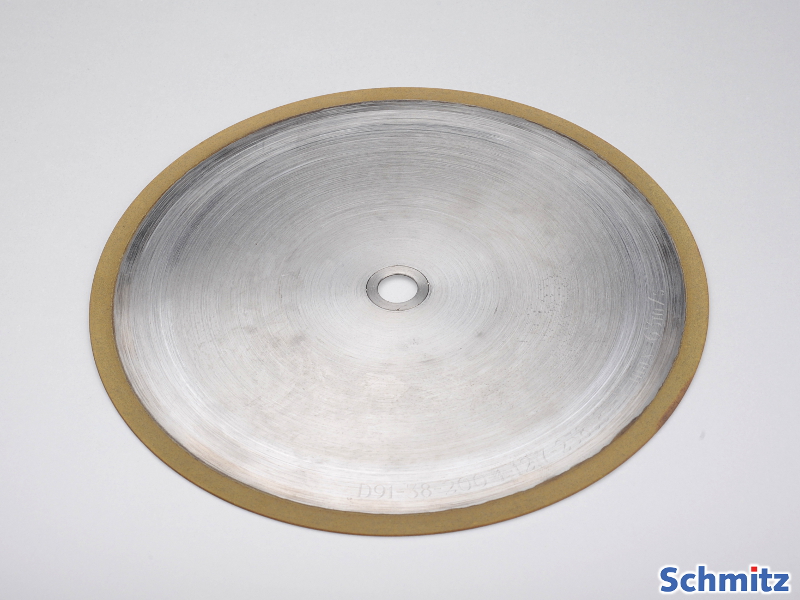 We offer cut-off wheels sizes from 75 mm to 500 mm diameter in metal or plastic bond. The bore hole diameter, grain size and concentration of the abrasive, as well as the thickness of the cut-off wheels can be customized to meet your needs. You can find a wide range of diamond cut-off wheels and CBN cut-off wheels in our online shop.
---
Cooling liquid with corrosion protection
For our wet cut-off wheels as well as our CBN and diamond cut off-wheels we recommend our fully synthetic cooling liquid. It is a water soluble concentrate which is free of boron and secondary amine soldified products. A 5% emulsion is sufficient. Another variant is our coolant with defoamer, which we produce for you as a ready-to-use solution.
Characteristics:
Good cooling ability
Low foaming
Effective corrosion protection
Suitable for all metals including aluminum.